University & Technology Transfer
Filing Through Patent Place 
Streamlining Patent Filing for Commercial Success.
We at Patent Place understand that Tech Transfer offices comprise numerous different personnel, with some members working remotely from different parts of the country. Would it not be great if you had a system that allows the entire team to work in synchronization, from anywhere they want, whilst saving time, money and being able to take more control of their European patent filings? Well with Patent Place, you can.
Patent Place is a self-service, online platform that enables its users to file common formalities associated with obtaining a European patent, directly to the EPO. All the back and forth between yourself and European IP firms is mitigated, as you can file yourself through our simple, intuitive platform within minutes. The system is designed and supported by European patent attorneys and paralegals, so we understand the pain points when filing the required formalities.
Why Is It Suitable For Universities?
Keeping you in control of your applications
Patent place gives universities and tech transfers complete control of their protected innovations. We pride ourselves on the simplicity of our platform and want to remove the complexity of the European Patent Offices (EPO) Online Filing System.
The simple add and edit portfolio allows you to upload, sort, and filter your European patent applications. We also highlight when to file the necessary formalities when the windows open, allowing effective management of all of your uploaded cases; keeping the filing decisions within the university/tech transfer office.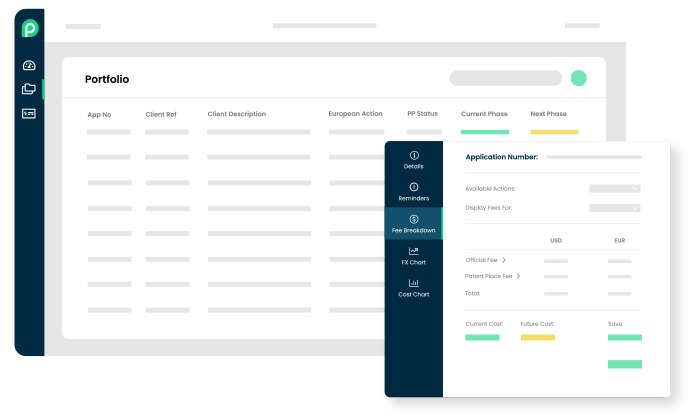 Reducing costs on the road to commercialization.
Using patent place can be extremely cost effective, you can save up to 46% when filing formalities. This cost saving allows universities and offices of innovation to reallocate their funding to other areas to the commercialisation process.
Our partnership with Moneycorp helps us provide our users with two cost benefits. The first is a competitive FX rate, which is updated on a daily basis. which enables our platform to provide FX features to help you make cost-effective decisions on when to file. The second is that when you transfer money for an instruction, you are transferring to an American account in US Dollars, so no unnecessary international fees are required to be paid.
*Savings are up to the percentage. Costs compared are taken from two European IP firms, when filing the relevant European Patent formalities.
Allowing more time to commercialise innovation.
Saving time is a huge benefit at any stage of the commercialisation process. With patent place we can help you reduce the time it takes to protect your innovations. Compared to the conventional filing method, we can reduce the time taken by up to 8 weeks. This allows universities and tech transfers to focus more on innovation.
Save up to 8 weeks across all European Patent formalities when filing, compared to conventional filing methods.