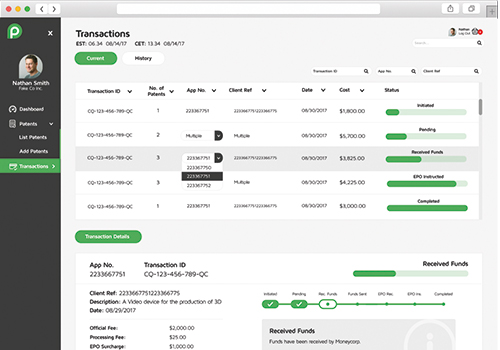 Transparent
All transactions on The Patent Place have a transparent set of processing fees and costs of the FX transaction from US Dollars to Euros to provide a clear summary of all fees spent on your patent portfolio.
We display a detailed breakdown of all associated costs to each individual renewal, both real time and in the future. Giving you tools to save time and money.
Control
The Patent Place ensures you can have a clear view and management of the costs of your Patent Portfolio. A clear dashboard provides a clean interface and ability to assess when to make decisions about maintenance fees to time best FX rates to minimise costs for your business.
We put you in control of paying all official fees directly to the EPO, without the need for expensive professional intervention. You can process the fee anytime before the deadline, from 3 months before the due date to up to, to 6 months after.
How it Works
Our simple six step process takes you from adding a patent to a complete renewal in no time at all.
Need broader regulated IP services?
We recognize that not all patent filing and grant transactions are always straight-forward. We have teamed up with Pure Ideas in order that we can provide you with a broader set of services should this need arise outside of the Patent Place transaction.
Check out our partners Pure Ideas: www.pure-ideas.co.uk